18 Feb
According to the Urban Dictionary, "Having a Good Eye" is and expression meaning "Great observation." Used to commend someone after they notice a particularly subtle yet important thing or detail.
I never felt like I had a particularly "good eye" towards things.
I have style. I have brains. I have a way with words. I have some outstanding dance moves.
That said, I also sometimes pick the most hardest, most ridiculous path, people or pastimes a person could imagine.
There's a 40+ year track record to consult, if you doubt me.
That's why when Bob, the elderly attendant at the Trap and Skeet range, told me I had a good eye, I had to marinate in the idea for a while.
It could have been that I busted up those clay pigeons  like they were Rhianna and I was Chris Brown (I hate that guy, never miss an opportunity to stick it to him), on my first go at the sport?
It could have been because I shut down my male counterparts while they "babied" me?
It could have been because my mother was in the spectator area (telling me to hit the low end of the parabolic curve – math teacher) and he wanted to make nice with her?
Or it could have been the thing that is. The thing that I have denied for so long.  The thing I didn't realize until this week, upon my first attempt at firing weapons….
…that I have a good eye.
It took a Glock 18 Submachine gun on Valentine's Day to bring it to light.
Before last week, I had never picked up a handgun or any gun to be honest. I never saw the need. Didn't really understand them. Always tried and mostly succeeded to disarm people with my sharp tongue.
I started boxing recently and found that in excess of a wonderful workout,  I started to feel more confident in my ability to protect myself physically, should the need reveal itself.
It hasn't, thank goodness, but if it did, I am 1000% sure I could punch someone right, square in the nose or throat and get away. Or stay there and punch the crap out of someone if I chose to.
I don't imagine myself to be very aggressive on the surface, but poke a bee's nest and you'll see what happens.
(Ok, maybe I am a little aggressive)
In my evolution into modern day mom/badass, I have found my stride.
I am trying to do new things and let go of old ones that don't work, I've developed deeper friendships and opened myself up to new experiences.
When the Main Squeeze asked me what I wanted to do for Valentine's day, I shrugged and said "let's do anything but go out to dinner."
Having worked in the hospitality industry for 20 years, dinner out on New Year's or Valentine's day (Easter and Mother's Day too), is such a bummer to me.
The MS started sweating a bit then, I think. I later joked that he has no short or long term memory, to a mutual friend and that was it. He was determined to show me that he could "retain" information.
"You'll see" he said.
I went to the gym on the morning of Valentine's Day and when I returned he said "We have an appointment at 2pm.  It's nearby, it will only take an hour."
Hmm. Interesting. I'm listening.
We ended up at Lock and Load, a machine gun range in Wynwood, Miami.  I shot three machine guns and one handgun.  25 Rounds on an HK MP5 (both semi-automatic and automatic), 25 Rounds on a  Glock 18 Submachine Gun (both semi-automatic and automatic) and 25 Rounds on a Colt Commando 9mm (both semi-automatic and automatic). Then to finish it off, I had a Ruger handgun (I think).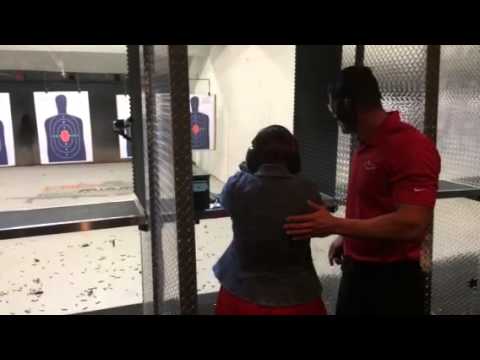 It. Was. Crazy.
My instructor, Mike, was great. His passion for the weaponry was infectious. He was a skilled instructor and even harassed me a little bit about focusing with the wrong eye.
It's adorable when they do that.
When I was done, he pulled my target in and let me see my work for myself.
I have to admit, I was impressed.
 The next day, I traveled back to the Westgate River Ranch for a weekend with my little girl.  We met some friends and family for a weekend of fun.
While we were there, I decided I should shoot a rifle, just for sport, because I needed to round out my one week of weaponry training.
The sheriff who signed me up, chuckled a bit when I said I wanted to shoot stuff. I am sure he was thinking I'd never even show up.
But I did.
And I shot stuff.
I wasn't half bad either. I was the only female but not the only first-timer.  I hit six out of twenty pigeons. On par with the other shooters of my same experience.
I was happy with that.
With all the guns and ammo of the last seven days, here's what I found out about myself – all apply to my gun experience and my life.
I like precision over buckshot.
I don't need that much power to be effective.
Bigger is not always better.
One good shot is all you need.
My performance is enhanced by practice.
I have aim.
I have a good eye.
I am formidable.
The question is – what will I shoot next?
*****
Lock and Load – 2545 N. Miami Ave, Miami FL, 33127/Phone: 305-424-8999- reservations accepted
Westgate River Ranch – 3200 River Ranch Boulevard, River Ranch, FL 33867 /(863) 692-1321